Once installed, Total Adblock, will turn itself on and start blocking adverts and trackers right away. However, you may want to make a few changes to how it works - such as letting your favourite website show adverts.
To make changes, click on the Total Adblock icon on your extension toolbar to bring up the overlay.

Main Menu - Quick Toggle

To stop blocking ads and trackers on the website you are currently viewing set the toggle to the left. This will also add the website to your allowed list so whenever you visit it in future it will not block ads.
It will also show you how many ads and trackers you have blocked since loading the webpage.
Main Menu - Statistics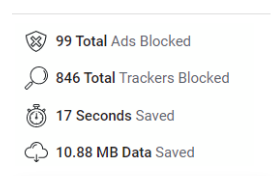 Below the quick toggle is a list of statistics showing how many blocks and saves over the whole time you have been using Total Adblock.
Main Menu - Malicious Website Toggle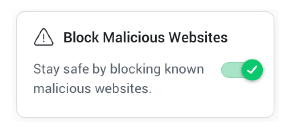 Here you can see if malicious websites are being blocked. This is powered by Total WebShield. We recommend leaving this on - because if a site is blocked you can still visit it, but you are given a warning.
Second Menu - Quiet Mode
By default, Total Adblock will disable any push notifications. If you want to receive push notifications you can toggle this off. To set what can push notifications, use the browser settings - click here to see how.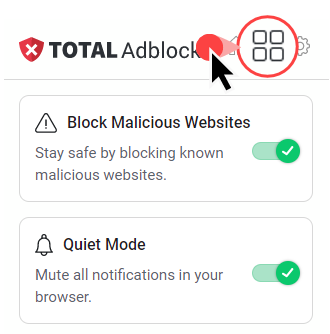 You also have a convenient way to clear browsing history and go incognito.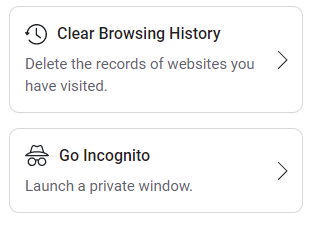 Settings - Global Toggle and Whitelists
In settings, you can toggle Total Adblock for all websites. We recommend leaving this on, but it is there if you want to use the Total WebShield Malicious Web Blocker without blocking adverts and trackers.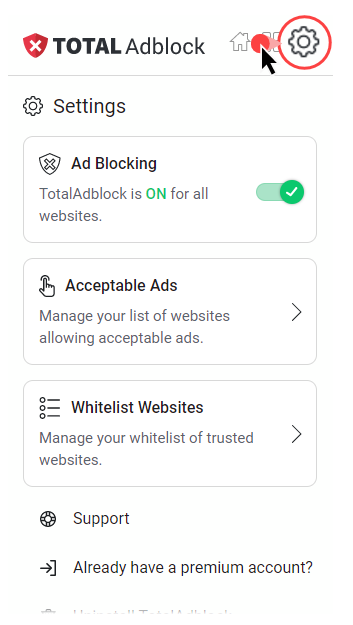 Here you can also manage websites which are allowed to display ads under 'Acceptable Ads'.
Sites allowed with the quick toggle will be added here - you can also remove them here.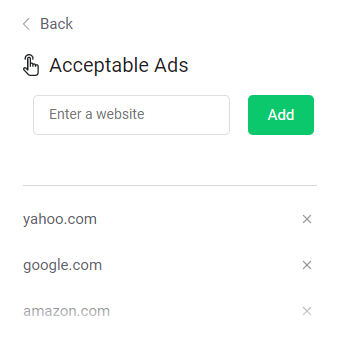 When visiting a malicious website, you have the option to add the website to the whitelist. Select 'I trust this website, do not flag again'. This is useful if for whatever reason a site you know you can trust is blocked.

You can then remove websites added to the whitelist through the 'Whitelist Websites'