Total Adblock will disable annoying push notifications by default because more often than not they are just used for advertisements.
If you find that you need certain push notifications you'll have to allow them through the Total Adblock.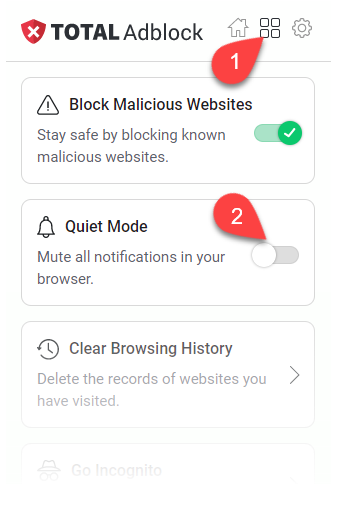 To block specific notifications you do not wish to see, you will have to manually configure the permissions on your browser. See the guides below.
Google Chrome
Click the three dots overflow button in the top right-hand corner of a Chrome window
In the menu, click Settings
Under Privacy and Security, click Site settings
On this page, click Notifications
By default, the switch is set to Ask before sending (recommended), but it can be moved to Block if you wish to block notifications completely
Mozilla Firefox
Click the three dots overflow button in the top right-hand corner of a Chrome window
In the menu, click Settings
Under Privacy and Security, click Site settings
On this page, click Notifications
By default, the switch is set to Ask before sending (recommended), but it can be moved to Block if you wish to block notifications completely
Microsoft Edge
Click the three dots overflow button in the top right-hand corner of an Edge window
In the menu, click Settings
Click Advanced in the sidebar
Click the button labelled Manage Permissions
Any sites listed have been granted permission to send notifications, hover over them to reveal an 'x' to remove or click Clear all at the top